Car Accident Attorneys in Chapel Hill
Helping Accident Victims in the Triangle Area
Car accidents occur for many reasons: driver error, negligence, manufacturing defects, and dangerous weather. No matter the specific cause or result of a collision, speak with a Chapel Hill auto accident lawyer at the Law Office of Matthew Charles Suczynski and we can help you understand your options and protect your rights under North Carolina's laws.
Our team is here to help you deal with the insurance company and any issues related to the full and fair payment of your claim. Instead of accepting an unfairly low settlement or dealing with unnecessary delays, put our firm in your corner and rest easy knowing that your interests are fully protected.
Call (919) 619-3242 today to schedule a initial consultation.
At-Fault, Negligent & Aggressive Drivers
Driver negligence is much more common than you might think. All it takes if a lack of attention in that split-second before the accident. This can be caused by:
Talking to a passenger or child
Changing a radio station, podcast, or song
Applying makeup, shaving, or other personal grooming
Eating or drinking
Talking on the phone
Driving while tired or fatigued
Disregarding the weather or traffic conditions
Any of these factors may be enough to prevent the normally quick reaction time needed for changing traffic conditions, such as sudden braking in stop-and-go traffic or avoiding an object or animal in the road.
More serious negligence occurs when traffic or criminal laws are violated, such as:
Disobeying traffic signs and signals
Driving above or even well below the posted speed limit
Failing to signal while turning or changing lanes
Driving under the influence of alcohol and/or drugs
Texting or other handheld cell phone use
Recklessness and Intentional Wrongdoing
At times, the at-fault driver's negligence reaches another level. By recklessly or intentionally disregarding their actions' probable consequences, they are putting other drivers in serious danger. Road rage is an example of this kind of reckless behavior that can quickly escalate and lead to criminal repercussions. Aggressive driving constitutes a huge risk for all motorists; it may, however, be difficult to prove fault if an accident occurs.
Determining Fault in a Car Accident
You may have a sense of who caused a car accident, but a determination of legal fault can be surprisingly complicated and involve questions about who acted when, which laws governed the situation, witness recollections, and more.
Even if the driver of the other car was clearly negligent, you must still prove that their negligence caused damage and injury. Police and car accident reports, including witness statements and photos can help, but even then, many auto insurance companies will contest what appears to be clear liability and force you to prove it.
In North Carolina, if you are even 1% responsible for an accident that caused your injury, the Contributory Negligence doctrine states that you won't receive any compensation - no matter how minor your fault or major the other party's. That's why it is essential to seek legal advice after any collision occurs. Our team will work to determine and prove the cause of the accident in order to build the strongest cases to support our clients' auto accident claims.
Compensation for Injuries After a Car Accident
At the Law Office of Matthew Charles Suczynski, we help drivers and passengers injured in car accidents recover damages from the at-fault party or parties. Financial compensation, also referred to as damages, may include money that is paid to a victim to compensate him or her for physical injuries, such as broken bones, spinal injuries, and head injuries, and for physical pain and mental and emotional suffering. Damages may also be sought to pay for the victim's medical bills that arose as a result of the car accident, in addition to reasonable future medical bills. If the victim requires rehabilitative services or accommodations, such as physical therapy or a ramp leading to the home, these costs may also be recovered. The car accident victim also may recover lost past and future wages and compensation for damage to personal property.
If you have been injured in a motor vehicle accident, seek medical attention and document how the injury is affecting you, both emotionally and physically. This can be of great assistance when it comes time to show the effects of the accident.
Contact Our Chapel Hill Car Accident Lawyers
Car accident are unfortunately common and many victims don't know their rights after an accident. This is one of the main reasons to trust a competent attorney who will act in your best interest. Start by contacting a trustworthy lawyer to discuss the particulars of your case and to get an objective point of view from an experienced professional.
We offer free consultations to clients in Chapel Hill, Durham, and the surrounding areas in the Triangle. Contact our team online or by calling (919) 619-3242 to arrange an appointment.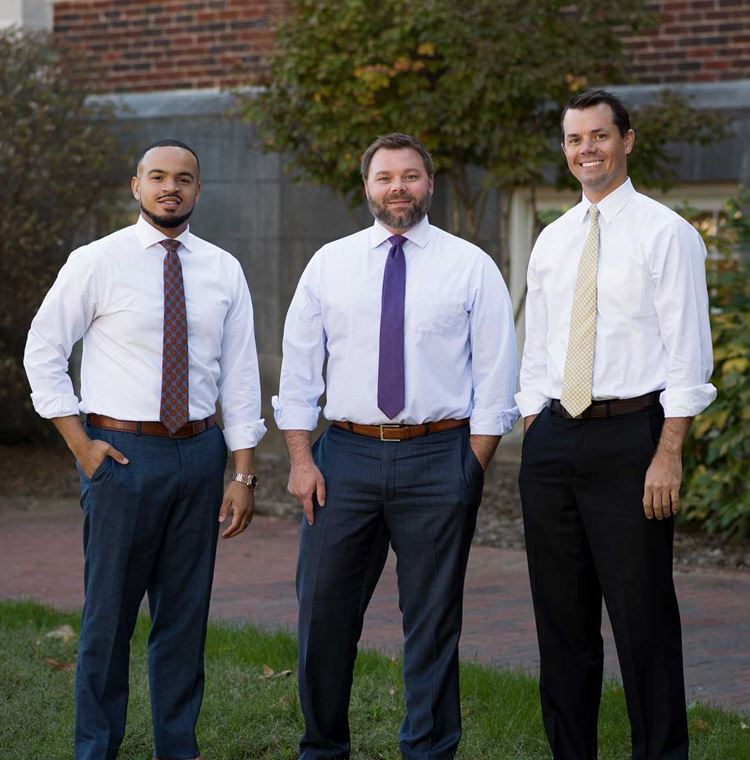 What Makes Us Different
Reach Out to Our Legal Team
Over 40 Years of Combined Legal Experience in Criminal Defense & Traffic Law

Committed to Providing Clients with the Highest Possible Standard of Legal Representation

Proudly Serving Clients Throughout Chapel Hill and Durham, NC and the Triangle
Client Testimonials
Hear From Past Clients We've Helped
"Successfully Dismissed"

This astounding team of attorneys worked very hard to get my case successfully dismissed. I felt confident that they would get the job done and they did.

- Darlene C.

"Great Service!"

Reached out to the Law Office of Matthew Charles Suczynski for help and they were able to get to ticket dismissed. I definitely recommend using them.

- Kerry T.

"Beyond Satisfied With the Results"

These guys are awesome. I had my attorneys handle a traffic citation which I knew I couldn't beat on my own. I received their correspondence, and boy, I am beyond satisfied with the results. I was not kept in the dark since hiring them.

- Rodney S.

"Professionals You Can Trust"

Attorneys Matt Suczynski, Mike Paduchowski, and Ray Griffis worked hard on my case to ensure that the best possible result was achieved: MY CASE WAS DISMISSED. The law office paralegals were professionals that kept me informed and obtained documents necess

- Esther B.

Click below to access our payment portal.