As experienced immigration attorneys we here at the Law Office of Matthew Charles Suczynski in Chapel Hill, NC understand that every case is different. Immigration attorneys can be responsible for much more than just helping people become citizens. Our diligent staff allows the Law Office of Matthew Charles Suczynski to consult on a wide range of cases that may affect you, friends or even family members. Let's dive into the current state of immigration in 2018 and see how the Law Office of Matthew Charles Suczynski can help you.

A
Recipe

For Disaster

What do you get when you mix a backlogged federal court system with a federal push to ramp up arrests and deportations? "It's a recipe for a due process disaster," said Omar Jadwat, an attorney and director of the Immigrant Rights Project at the ACLU. He points out there are already a large number of caseloads in immigration court and Mr. Trump's actions threaten to increase the backlog of the system even more. America's immigration courts are now handling a record-breaking level of cases, with more than 533,000 cases currently pending, according to Syracuse University's TRAC, a data gathering site that tracks the federal government's enforcement activities. As a result of this backlog, immigrants awaiting their day in court face an average wait time of 678 days, or close to two years.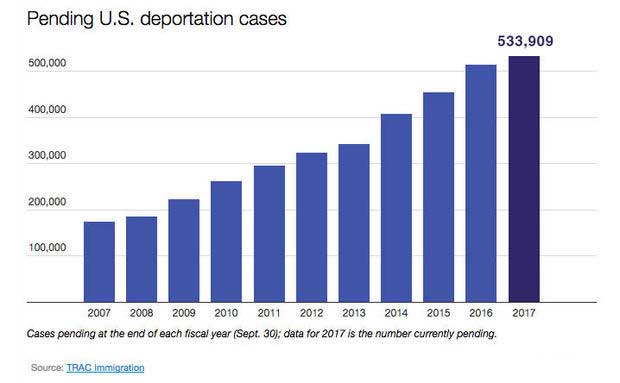 This is the most recent chart we could find for visualization purposes however in winter 2017 the number of pending cases has ballooned to 650,411 nationally. North Carolina currently has 11,523 pending cases. Here's the raw data.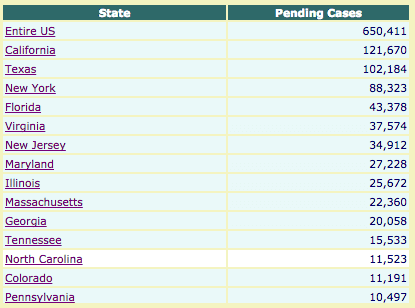 No

Reprieve In Sight

Reprieve doesn't look to be in sight. A spokeswoman from the DOJ's Executive Office for Immigration Review said the agency is awaiting further guidance regarding the hiring freeze from the Office of Management and Budget and the Office of Personnel Management. In the meantime, she said, the agency "will continue, without pause, to protect the nation with the available resources it has today."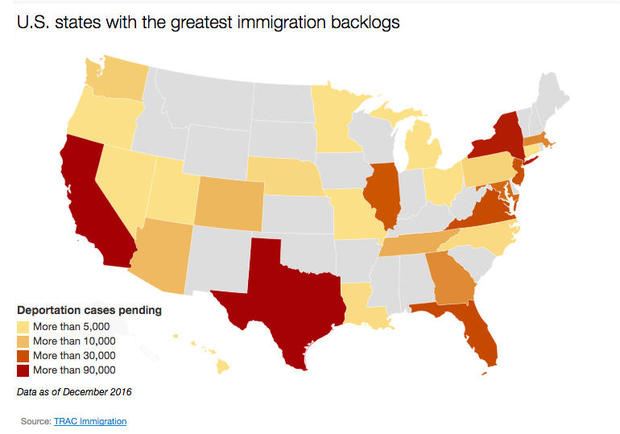 No

Legal Help Either

On top of the stress of waiting months for a hearing, being in the foreign environment known as the courtroom and then receiving only minutes before a judge, immigrants aren't provided legal counsel. Finding an attorney falls on the individual, which can prove challenging due to cost and possible language barriers.

As a result, many immigrants arrive in court without legal representation. About 60 percent of detained immigrants lack counsel by the time their cases were completed, while more than one-quarter of nonretained immigrants failed to secure legal representation, according to the 2011 New York Immigrant Representation Study.
Immigration Attorneys

Can Help

Research shows hiring an experienced attorney or law firm can greatly improve the outcome for those facing immigration issues of any kind. The study found that three-quarters of immigrants who had attorneys and were never detained had successful outcomes. By comparison, only about one in 10 immigrants who lacked legal representation and weren't detained had successful outcomes. For more immigration related statistics and research, please visit the Pew Research Center.
Why Should I Choose

 the Law Office of Matthew Charles Suczynski

Over the years Matthew has defended all types of Immigration cases. As such, Matthew has the skill set and experience necessary to handle your Immigration needs. Give the Law Office of Matthew Charles Suczynski, PLLC a call today to discuss your case at (919) 619-3242 or visit our Immigration page for more details
Charged With A DWI/DUI? Need A Local Lawyer?
If you've been charged with DWI/DUI, then it's vital to find an attorney who will do everything in his power to test the State's case and protect your rights. We proudly service Durham County, Orange County, and Alamance County; as well as the surrounding Triangle.
Schedule A Consultation